Learn To Drive in a Fully Electric Car
We have the first fully electric car for driving lessons in Lincolnshire, we aquired our Renault Zoe in February of 2019. We have joined a very small number of driving schools who are preparing our customers for the future. With traditional cars being phased out and cities are planning to ban diesel cars from our city centres, now is a good time to begin using an electric car. 
Learning to drive in a fully electric car is the same as learning to drive in any automatic car, customers will earn themselves a UK automatic driving licence and will be able to drive any automatic vehicle, but not manual. There are advantages to learing in the fully electric car. The electric vehilce will have full access to roads where diesels are banned and the electric vehicle has zero emissions, helping to reduce air pollution.
Why is the UK hanging on the the idea that learning manual is best? 
When driving an automatic you have more time to devote to observations and planning, thsi can make many drivers feel more in control and improves road safety. Many modern automatics outperform their manual counterparts. Most, if not all,  supercars are fitted with automatic transmissions as this makes the cars faster.
We are now able to start showing off our driving test passes in our fully electric car. The driving test is conducted in just the same way as every other driving test. 
Passing your driving test earns the automatic driving licence and you can go on to buy an electric car or you can easily transfer your skills to a more traditional automatic transmission.
Electric Car Driving Experience
Our driving instructor, Mike, has participated in the breakfast show of BBC Radio Lincolnshire. Taking one of their reporters out for the morning to see how easy it is to own and use an electric vehicle. We may have converted another driver to the benefits of going electric.
You can have a taster experience in our fully electric car before you begin shopping for your next car.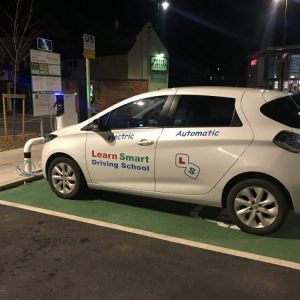 Since February we have seen significant growth in the number of electric car charging points, although Lincolnshire is lagging a little behind other counties. 
The Lincolnshire Co-Operative have been installing rapid chargers at a number of their stores. This is a great move, in the time taken to visit these stores you can gain a significant amount of charge.
A big step forward is the introduction of contactless payments, you no longr need to install a number of apps to charge your car, just scan your debit card and charge.
Our Electric Car Timeline
Feb 2019 – Fully electric Renault Zoe acquired
Mar 2019 – Rolec 7kW home charger installed
Mar 2019 – First electric automatic driving lesson
Mar 2019 – First radio appearance with the fully electric car, thank you BBC Radio Lincolnshire
Apr 2019 – Second customer for the electric automatic driving lessons
Jun 2019 – third and fourth customers
Aug 2019 – fifth, sixth and seventh customers
Sep 2019 – 5 day intensive course, my car only needs 1 charge during each of these days.
Oct 2019 – First driving test pass in a fully electric car in Lincoln
Nov 2019 – Second driving test pass in a fully electric car in Lincoln
I am finding that it's my existing customers in the manual car that is the main restriction to taking on more customers in the fully electric Renault Zoe rather than a lack of interest. I'm looking forward to moving completely to the electric car in 2020 and selling the manual car.